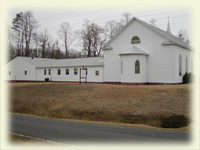 Hear Ye Hear Ye
Please respond to support this important local preservation effort:
We request that the Town of Smithfield refrain from any further damage and destruction to the historic structure at 888 Main Street, Smithfield, Virginia, known as the Doctor Jordan Wombwell House. This traditional, vernacular "Tidewater Cottage" is named for the town's first known resident physician. A recent investigation by the Senior Historian of the Eastern Region Preservation Office, Virginia Department of Historic Resources, indicates a circa 1820 construction date, making it one of the older and more significant extant homes now within the Smithfield Town limits. Additionally, documents and photographs indicate that a Wombwell family cemetery may be located very close to the house. This possibility should be fully explored before any further harm is done to the property.
Send "Yes" to our website or to albert.b@charter.net or call 757-613-6183 to leave "Yes" message and name.
All respondents will be added by name to the petition.
---
ISLE OF WIGHT COUNTY
HISTORICAL SOCIETY
MEETING
Sunday January 27, 2019–2:00 p.m.
Over
Justin A. Sarafin is statewide Director of
Preservation Initiatives and Engagement at
Preservation Virginia, a private, non-profit
organization in its 129th year of existence. He
holds a BA in Art History from Wheaton
College, Massachusetts, and an MA in
Architectural History from the University of
Virginia's School of Architecture. He is a
member of the City of Charlottesville Board of
Architectural Review, past president of
Preservation Piedmont and a longstanding
member of the Piedmont Area Preservation
Alliance. Trained as an architectural historian,
historic preservationist, and museum curator, Justin has experience in the
preservation, restoration, and interpretation of American architecture. His
community-focused, grassroots historic preservation advocacy work with
underrepresented communities is complemented by experience in public policy at
local, state, and national levels. While grounded in the historic and cultural
resources of Virginia, he has also written about and is interested in UNESCO
World Heritage and international preservation issues.

Read the full article below . . .